Your battle now is over, no more tears flowing down your cheek,
no more pain or suffering, now you are no longer weak.
I still do not understand why this had to happen to you,
but I am proud to say I called you dad, the greatest man I ever knew.

You were always there for me and never once turned me away,
even until you drew your last breath on that very day.
You taught us all something thru your life that will always stay,
for your smile and your words helps us thru even your darkest days.
You touched many a life, lifted spirits and stood strong thru it all,
even till the end when you knew there was no getting over this wall.
You held your head high with a fearlessness and courageous way,
you always told us the cards were delt us and this we must play.
Now you are my Angel, so spread your wings out wide,
please wrap them wings around me whenever you see me ride.

Our time together was memorable and God took you way too fast,
But now the heavens have you and I have a new guardian angel at last.

R.I.P. ROY..!!!!!!!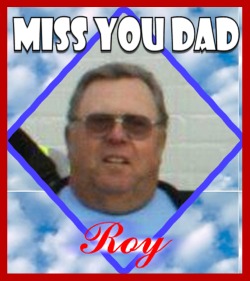 11/9/44 to 4/29/12
These pages are dedicated to the man that taught me a great deal in the short years he was here.